7 Ways To Promote Your Painting Business On LinkedIn
Although LinkedIn may not be as popular as Facebook, it has been around for much longer.
When it comes to networking, LinkedIn has definitely gained the most respect.
Here Are Seven Ways to use LinkedIn to Promote Your Painting Business
1. Make A Profile For Your Company
Making a page for your company on LinkedIn is the first way that you can connect with your customers on a professional level.
With a company page, you give out information about your company, what it does, how long it has been in business, etc…
Having a company profile on LinkedIn also establishes that your company is serious as just being on LinkedIn is a good look for a company.
Here's a video on how to make a great Company Page: 
[Related : Painting Contractors: 7 Ways To Utilize Social Media To Get Leads]
2. LinkedIn Polls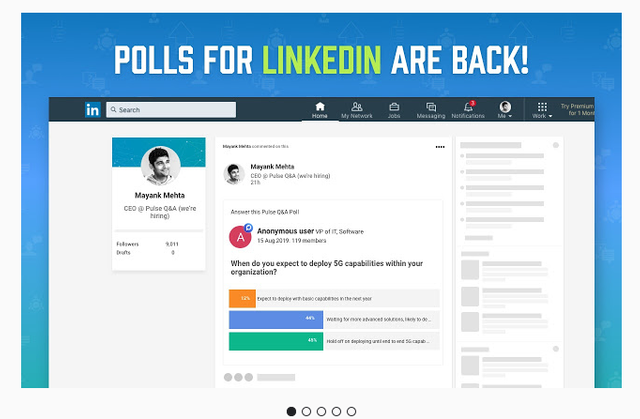 As a business, you probably spend a lot of time wondering what is on the minds of your customers and potential customers.
LinkedIn has a feature called Polls which allows you to find out exactly what your target market is thinking.
You can use polls targeted at specific people and then get real-time results with the kinds of things people are saying.
3. Publish Blog Posts
Content marketing should be part of your marketing strategy – this means posting content on a regular basis.
It was reported 72% of businesses agreed that using content marketing increased their engagement.
By publishing content regularly related to your painting business, you show that you know what you're talking about and you establish industry expertise.
You also build a following of people interested in reading what you have to write about the painting business.
4. Sponsor Your Posts
If you are familiar with Facebook sponsored posts, the idea of sponsoring your posts should be nothing new to you.
Since you're already using the LinkedIn platform to regularly publish blog posts, it's a good next step to sponsor some posts to get them more views.
It's worth sponsoring posts that show off either your expertise in painting or your knowledge of your niche.
Here's an official video from LinkedIn on how to best sponsor your posts : 
5. Get Testimonials From Customers
One of the biggest ways that people make up their mind if they want to use you as a painting contractor is reading testimonials online.
LinkedIn allows you to connect with past customers and get testimonials from them that you can then use to promote your business.
The good thing about testimonials is that it's not just all positive talk about a company — and that's okay.
By showing the ups and downs of your painting business people can see that no company is perfect.
They can decide if all of your many upsides outweigh a couple of issues that people might have had.
6. Use LinkedIn Ads
It only takes a few minutes for you to set up and create an ad on LinkedIn and it can help you connect with possible customers.
You are going to be able to target the ads to a specific audience which is good as a painting contractor, only including people in your target area.
Here is a video that will help you create LinkedIn Ads : 
7. Make A Company Related Group
Groups on LinkedIn are a bit like online forums where people talk about their different interests.
You can build something of a following for your company by building one or more groups that have to do with either painting in general or a specific niche you have.
Inside the groups, create topics of conversation where you either just directly explain things that people might not know about or ask thoughtful questions to get people thinking.
Quick Recap:
Create a LinkedIn company page

for your painting business.

To find out what your customers want from your business,

create and analyze LinkedIn Polls.

Regularly

post blog posts

to establish your expertise in the painting industry.

To attract more attention to certain blog posts,

sponsor blog posts on LinkedIn

.

As you want future customers to know what a great experience you provide,

request video testimonials from customers

and share them.

Widen your exposure to potential customers by

using LinkedIn Ads

.

Create Groups

related to what you do as a painting contractor and get conversations started within those groups to further show what you know.