6 Tools That Will Save Your Painting Business Money, Time, & Headaches
If you own a painting business, then you know that 24 hours is not enough time in a single day.
There isn't enough time to handle the behind the scenes tasks like…
scheduling estimates
creating projects
creating invoices
updating your mailing list
And don't even get me started on social media planning!
There are plenty of low-cost and even free tools out there that can take care of those everyday tasks much quicker and simpler.
Using the right automation tools in your painting business will save you money, time, and free up your schedule for more critical tasks like sales and hiring.
In this guide, I'll share 6 tools that I've seen create growth, profitability, and sustainability for many painting businesses I work with.
Let's dive right in!
1. Later
Later is a social media scheduling tool that allows you to visually plan, schedule, and analyze statistics of posts for
Instagram

Facebook

Pinterest

&

Twitter
Here's what the layout looks like: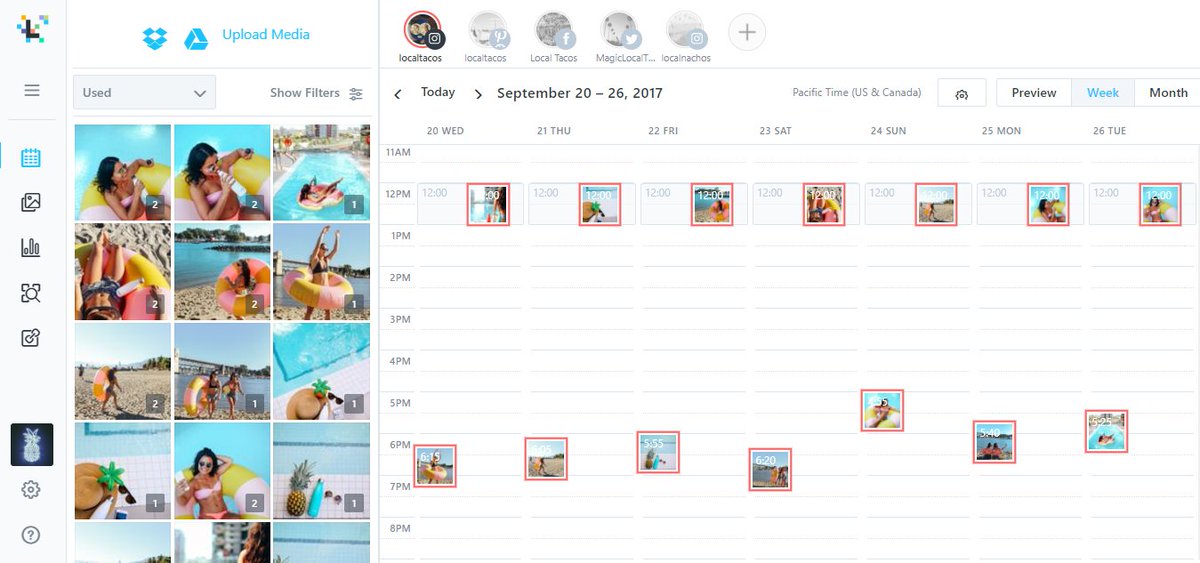 Notice I didn't mention "LinkedIn" this was the only deal-breaker for me -so I just put together a zap for it (;
I have tried:
Hootsuite
Buffer
Agorapulse
and a variety of other social media scheduling tools…
and I have found that "Later" is the best and most cost-effective social media scheduling tool for those who are just starting out with social media -at only $9/mo for 100 scheduled posts per month per platform.
This means you can schedule about 3 posts per day for Instagram, and 3 per day for Twitter, and 3 per day for Facebook, and 3 per day for Pinterest.
2. WordPress
At this point, I trust that you already have your painting website up and running.
But just in case you don't, consider setting it up using WordPress.
While there're several other options out there, WordPress is by far the most robust, versatile, popular, and widely supported website building platform today.
WordPress powers more than 30% of all websites on the internet!
It offers an easy to use dashboard (back end administration control panel) for creating pages and blog posts.
[Related:
Steal My 101 Blog Post Ideas]
Editing pages is similar to using a word processor, so it's very easy to add or edit content & blog posts.
Additionally, there are thousands of free and professional looking themes and templates for you to choose from.
What makes this platform more powerful is that it offers over 50,000 plugins, so you can extend its functionality by installing and integrating them with other programs specific to your trade.
Here's a quick video for my visual friends out there:
3. MailChimp
MailChimp is probably the most robust and user-friendly platform for email marketing.
MailChimp automates your email list building and lets you:
create and schedule family-friendly newsletters
design & send email campaigns
automate emails based on customer behavior (this ensures that all your content is relevant to your reader's interests)
offers recommendations for the best times to send emails
provides detailed reports to help you monitor your campaign's performance
See the number of people that opened your email
See the number of people that clicked on your links, made a purchase, unsubscribed, etc.
[Related:
Why Building an Email List is a MUST for Your Business]
[Related:
7 Ways a Monthly Email Newsletter Will Benefit Your Painting Business & What to Include In It]
All the tasks are purely automated, saving you lots of time and money in the process.
If you need help coming up with what to put in a Newsletter, check out an example here.
Here's a quick tutorial of MailChimp:
4. You Can Book Me
I could brag about YouCanBook.me (YCBM) all day long…
I use it in maybe 10 zaps and it saves me SO much time.
You Can Book Me is a scheduling tool that integrates with a wide range of other platforms to help customers book your painting services quickly and at their convenience.
You can integrate it with Google Calendar (recommended) or iCloud Calendar, and it will help your potential customers easily book an estimate straight from your website -no phone call needed.
The app is free to use, but the paid package offers more features, including:
a captcha feature -so you can avoid killer hacker robots that want to steal your customers
an ability to link to multiple Google and iCalendar accounts
embed your booking page on your website, Facebook page, or send your link via email
integrate with Zapier!!!
Click on the image to view options:
Having these many options means your clients can book your services on whatever platform they're using.
Once a customer books an estimate, you are notified via email, and the event is added directly to your calendar.
But if you want to take it a step further and save an hour or two, you can integrate it with Zapier so that when an estimate is booked, it will automatically:
Send a Text to you (or your estimator, office admin, etc…)
Send an email to you (or your estimator, office admin, etc…)
Create a client in Estimate Rocket or PEP Cloud (Painting Estimating Program)
Create a Subscriber in your "Prospects" list in MailChimp or Constant Contact
Create a Google Contact
Create a Person in Pipeline Deals, PipeDrive, Zoho CRM, etc…
Create a Deal in Pipeline Deals, PipeDrive, Zoho CRM etc…
Add this information to a Google Sheet
Create a Trello Card
I explain this in better detail in my blog post: "This Zapier Automation is Saving Painting Businesses 20+ Hours Each Week and Thousands in Admin Expenses"
You can also set rules like your availability, and the form questions are customizable as well.
You also get notified if the customer reschedules their booking, and the data is updated automatically.
If you had to do all of this manually, it would result in wasted hours (and money), lost opportunities, and a frustrated human being.
An alternative to You Can Book Me is Acuity Scheduling which is a little more advanced.
Check out this quick video of what You Can Book Me has to offer:
5. G Suite
G Suite is Google's suite of intelligent apps.
As you already know, Google is an established and world-renowned brand, and it's the most used search engine.
Today, however, Google is much more than a search engine; users around the world are also taking advantage of the company's many business offers to create their own successes.
From analytics and advertising to calendars and feature-rich online documents, Google provides small business owners with a variety of resources to manage and grow their brands.
Most business services offered by Google have been bundled into a powerful package known as "G Suite."
Popular products in G-Suite include:
Google Docs, Sheets, and Slides – basically a word processor, a spreadsheet, and a presentation tool which are integrated with Google Drive. They are collaborative and allow users to view & edit together in real-time. Changes are saved automatically.
Google Forms – a survey application that can be used to create painter training quizzes as we did here on the DYB Painter Training Site at the bottom of each page.
Google Sites – a creation tool that allows multiple people to create and edit websites without needing to be a tech-wiz! We put together Painter Training Sites for many Painting Businesses using this tool.
Google Hangouts – a messaging service that incorporates text, voice, and video conversations.
Google Keep – a note taking tool which includes text, lists, voice, and images.
Google Vault – an easy-to-use and cost-effective solution for managing information critical to your business and preserving important data.
Jamboard – a digital interactive whiteboard that enables collaborative meetings and brainstorming.
G Suite Marketplace – an online store.
While most G-suite features are largely free, a paid G-suite package offers additional features such as:
Personalized business email – for example "Nadia@DYBVirtual.com" versus my old email: "Nadia.DYBVirtual@gmail.com"
Extra storage space of up to 30GB
Professional Google Sites
and so much more!
And now for my favorite tool on the entire internet, (besides the Starbucks mobile ordering app.)
6. Zapier
Zapier is an extremely underrated, underappreciated, and underpriced automation tool (but don't tell them that).
It allows you to connect your favorite applications with one another, enabling you to automate tasks between these applications reliably.
Estimate Rocket
PEP Cloud (Painting Estimating Program)
Quickbooks Online
YouCanBook.me
Acuity Scheduling
Pipeline Deals
PipeDrive
Zoho CRM
Basecamp 2 & 3
MailChimp
Constant Contact
Trello
WordPress
These are just a small variety out of the 1,500+ apps that Zapier integrates with.
Zapier works using triggers and actions.
All you need is to link two or more apps on the platform, create a set of rules, and you will never have to repeat the task again.
Zapier is sort of like an assistant that gets things done immediately without ever forgetting.
The program is designed in a way that a trigger in one app causes an action in another number of apps.
For instance, you could set it up so that when a customer books an estimate via YouCanBook.Me, Zapier will:
Create a Client in Estimate Rocket or PEP Cloud
Create a Person in Pipeline Deals, PipeDrive, Zoho CRM, etc…
Create a Deal in "Estimate Booked" stage in Pipeline Deals, PipeDrive, Zoho CRM, etc…
Create a Subscriber in "Prospects" list via MailChimp or Constant Contact
Update your prospects list in Google Sheets
Send a Personalized Email to you, the appointment booker, an estimator, or an office admin.
Send a Text Message to you, an estimator, or an office admin.
Create a Contact or Update Existing in Google Contacts
Adds Customer Contact info to a row in a Google Sheet (this can help in the future for putting together a 9-Word Email which is effective in winning 30% of your old bids)
Creates a Trello Card under, "Estimate Booked" stage
Send a Message in Slack
All these and more can happen automatically without you lifting a finger!
I explain this all in great depth in my blog post "This Zapier Automation is Saving Painting Businesses 20+ Hours Each Week and Thousands in Admin Expenses"
I hope the above list was a helpful eye-opener on how you can save your painting business time, money, and headaches using apps!
The 6 apps I mentioned are just a few of the most popular tools used by many painting contractors I work with –there are many more depending on what you want to achieve!
The best part is that you don't have to learn how to use all of them to leverage their time- and money-saving power.
While most of the apps are intuitive, you can always hire a virtual assistant for painting contractors such as DYB Virtual to help with the integration.
Remember, as a painting business owner or manager, the goal is to focus on the core operations of your business.
If you need any help setting up and integrating Zapier, automating your social media, setting up YouCanBook.Me, Monthly Newsletters, Google Customer Map, or MailChimp, our team at DYB Virtual is ready and willing!