8 Ways for Painting Business Owners to Fit Blogging Into Their Busy Schedule
Just like every other painting business owner, you're most likely too busy to find enough time to consistently blog.
If you're trying to create an online presence, however, your painting blog will probably be the most effective marketing tool.
Updating your blog consistently is going to become one of the MOST critical tasks on your weekly to-do lists.
Far too often I notice business owners trying to wear ALL of the hats:
CEO
HR
Marketing
Sales
PR
Office Admin
Painting Crew Leader
etc…
When in reality, it should be more like this… well… maybe not exactly.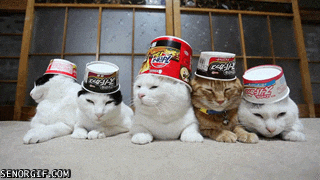 But you get the point right?
In the beginning stages of your business, you don't exactly have a choice but to do everything.
However, as your business grows, you must learn to outsource as much as possible to that you can focus on the core of your business.
At the final point in your business, the only thing you should be doing is the sales calls!
In this article, I'll share useful tips and hacks on how to keep up with your business blogging demands without compromising the core operations of your business.
First, let's quickly review why a blog is so vital to a painting business:
1. A Blog Drives Visitors To Your Site – Chances are you have a website with your painting services listed and a call to action for a visitor to book an estimate.
With relevant content and engaging topics, more visitors will see your services, and in turn book more estimates.
[Related:
9 Ways to Convert Blog Readers into Paying Customers
]
2. Inform And Engage Your Audience –you can use your blog to talk about topics that your audience cares about and the challenges they face.
Share content that genuinely addresses your audiences' pain points and questions, and you will easily position yourself as a reliable thought leader.
3. It Boosts Your Website's SEO – The higher your website ranks on Search Engine Result Pages, the more likely your customers will find you. Having a painting blog allows you to include more search terms you want to rank highly for.
[Related:
What is SEO? and What Can it Do for My Painting Business
?]
The bottom line here is that having a painting blog gives you a golden chance to showcase your services to many people and get more bookings.
With that being said, how do you take advantage of your blog as a busy painting business owner?
Here are some tips on how you can blog consistently while having time for core business operations.
1. Create A "Blog Post Ideas" List
The moment you start noticing the benefits of having a painting blog (such as generating new leads and saving time), new blog post ideas will start popping up.
An easy way to keep yourself present to thinking of new blog post ideas is to add it as one of your daily goals that you write down in the morning.
For example, "I will write one new blog post per week pertaining to questions or solutions for my target audience." -by writing it down every day, it will keep your brain present to the question of, "What's a relevant blog post idea for this week?"
Write those ideas down! Keep a journal on your desk or in your notes app on your phone.
[Related:
Steal My 101 Blog Post Ideas for Painting Contractors
]
Whichever way you do it, make sure you have a way of recording and tracking your blog post ideas.
New content ideas could pop into your head when you least expect them to; for example:
when taking a shower
when driving to the job site or an estimate
just before you go to sleep at night
etc…
Make sure to keep your notebook handy wherever you are -you never know when you'll need to capture an idea!
If you have an aggressive posting schedule, you may want to set aside some time and brainstorm new topics for the whole week, month, or season.
Even if the idea or blog title doesn't seem 'perfect' at the moment, just write it down. You can always refine it later once you get a new perspective.
I've taken the initiative to save you that brainpower, here's 101 Blog Post Ideas (at no cost).
2. Bookmark Sites That Inspire You
Once you start researching more about painting blog post ideas and how to keep things current and consistent, you will come across many more inspiring ideas.
Bookmark any site that inspires you.
Any time you run out of blog ideas, you can always refer to your favorite sites for new inspirations.
Interesting blogging ideas come from nearly anywhere online.
Some of the best places include forums, question and answer sites such as Quora, article directories, social media sites, and other blogs.
Home improvement sites such as Angieslist and Family Handyman have hundreds of topics covering different painting niches.
and best of all… your "competitors" or painting experts in your specific niche.
Use the platforms mentioned earlier to discover problems that people in your painting niche are experiencing and write blog posts discussing the solutions.
Generally, read what people are talking about online and keep yourself updated.
3. Find Your Best Writing Times
Writing requires a calm and fresh mind, so consider writing when you feel more inspired.
For instance, you might feel like the mornings or evenings when there is relative calmness is the best time to write.
For some, this is the time after a morning cup of coffee, or after a shower, or maybe after a jog once you've gotten those endorphins going!
According to Leo Widrich, co-founder of Buffer, "the best ideas come to us when a lot of dopamine is released into our brains. Triggers like exercising, listening to music, and taking a warm shower, contribute to increased dopamine flow."
Commit a regular time of the day when you feel most "inspired" and block out all distractions so you can focus on your blog content for two hours or so.
Once you make it a habit, you will start noticing a steady increase in leads originating from your blog.
4. Create A Posting Goal
One of the most challenging tasks for painting business owners is creating a realistic blog posting schedule and actually sticking to it.
[Related:
How to Find the Optimal Amount of Blogs You Should Be Posting per Month]
Setting a goal of posting four blog posts per week only to end up posting twice per month can quickly kill your blogging morale.
If once per week is the best schedule for you, stick to it and move on as you asses the outcome.
Google indeed loves fresh, regular content, but if you're running a business and blogging at the same time, it might be difficult to commit to a more robust posting schedule.
We find blogging at least once per week to be a reliable and effective schedule for most painting business owners.
Don't pressure yourself into blogging daily.
That's counterproductive.
Since you have topic ideas, you can plan your blog posts ahead of time using free tools like Trello, WordPress editorial calendar, Google calendar, or Google spreadsheets.
If you can't keep up with a regular and consistent posting schedule, consider outsourcing your blog from a professional content creator.
5. Load Up Your Blog With Scheduled Posts
Since time is a limited resource, writing, and posting each individual blog post every 2-3 days might start to feel like a chore.
There are some days when you just don't feel like writing, and other times you might have more pressing matters at hand.
Don't work harder; work smarter.
A smarter way to update your painting blog is to spend a whole afternoon, or an entire day writing 4-6 blog posts that can cover days or weeks ahead.
Upload these posts to your blog as scheduled draft posts, and they will be published each on the chosen date.
6. Streamline Social Media With Your Content Calendar
Social media is one of the most powerful avenues for growing your blog traffic. When generating online leads, it's difficult to separate social media from your blog.
In fact, we highly recommend that you link business social media profiles to your blog as soon as it's set up.
Your blog and site are where the action takes place; this is where customers will see your painting services, learn about your location, call your business, or book a painting estimate.
Social media is where you get to entertain, engage, intrigue, and connect with your customers.
Check out how we automated Social Media for our clients.
Whatever you do on your blog should be streamlined with the conversations happening on business social media channels.
For instance, every time you create a new blog post, always share the summary and the link on your social channels to bring more visitors back to your site for the 'action.'
Again, you don't have to post each individual blog post on Facebook, Twitter, or Linked In –schedule multiple posts at once and save time.
Tip: If you've ever struggled with what to post on social media, or felt desperate for new ideas, consider using a social media content calendar.
A content calendar will allow you to create engaging, informative, and entertaining posts every day, which will help you grow your following and readership.
7. Give Yourself A Deadline
If you're going to be doing most of the blogging for your painting business, including create a posting schedule and sticking to it, without having a specific deadline, you might never finish that blog post.
If you get to finish your post, you might scramble to finish it last minute and compromise its quality…
The best way could be to give yourself 2-3 days or more to finish the post.
So if you're writing one post per week, have a specific posting date, and make it a goal to complete the post two days before the deadline.
Naturally, you want to assign the blog writing task on the slowest day of the week when you will be spending most of the time in front of your computer.
8. Outsource Your Blog Content
You can save a lot of time by hiring a third party content writer or virtual assistant for painting contractors such as DYB Virtual.
The best part about hiring a trusted content writer is that you get to automate the whole blogging process –from content ideation and keyword research to content creation and posting on the blog.
Having an active painting blog is a nearly free way of giving your painting business online exposure and getting more leads.
Remember, however, that for you to get the maximum benefits your blog has to offer, you need to create relevant, high-quality, informative, and engaging posts consistently.
If updating your blog regularly is getting in the way of other important business operations, DYB Virtual can help!
Whether you need 2-8 blog posts per month, our team will do keyword research based on your painting services & location, and create optimized content posted directly to your blog.
For more details, check out our content writing packages for painting contractors.